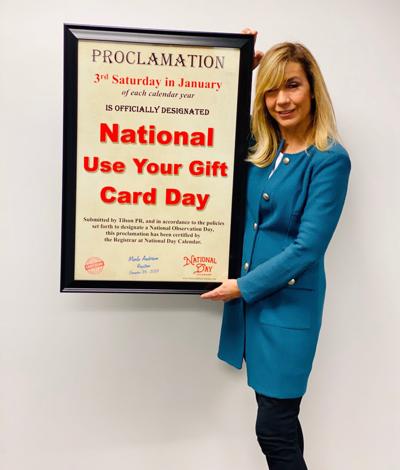 Tracy Tilson knows she's not the only one who has forgotten about gift cards she received over the holidays.
Then an idea sparked: How about a day that serves as a reminder to use them? And have retailers and restaurants offer deals. For the first time, Saturday, Jan. 18, will be known as "National Use Your Gift Card Day."
You know, like, "National Doughnut Day" on the first Friday in June and "National Chess Day" the second Saturday in October. Many national trade organizations and media outlets have brought attention to Tilson's movement.
Gift cards or old-fashioned certificates do not have an expiration date in New Hampshire, according to the Attorney General's office.
Tilson, who runs Tilson Public Relations with offices in Florida and New Hampshire, worked to get the day officially designated through the National Day Calendar and Chase's Calendar of Events.
"I was going through my wallet and found three or four unused gift cards I had forgotten about and kind of got this aha moment," she said. "If I'm forgetting gift cards, I bet a lot of other people are too."
Some cards are left in the bottom of drawers and the back of wallets and "time gets away," Tilson said.
"We started to get momentum this fall," Tilson said. "It just kind of grew and took off a little bit."
The third Saturday in January seemed like a good day since most gift cards are given around Christmas. About $3 billion go unused every year, Tilson said. Consumers were projected to spend $27.5 billion on gift cards, according to the National Retail Federation.
Tilson founded a limited liability company to support the movement.
"With the new year, it is a good time to find your gift cards and get organized," she said.
Some of the deals include:
Kohl's: Use your gift card and earn $10 Kohl's cash for every $50 spent.
Regal Cinemas: Receive one free refill with a purchase of a large soft drink and/or large popcorn on the same day of purchase when you use your gift card.
In 2018, Tilson opened a satellite office of her Boca Raton, Fla.-based public relations company in a 130-year old one-room schoolhouse in Hebron. Her family moved to the state when she was 5.
Tilson encouraged people to either use their cards or donate to an organization.
"We just want to remind people and that was the intention," she said.